Paysafecard Betting Sites – A Different way to Pay
Paysafecard isn't like a lot of the best betting payment methods out there. It's not a debit or credit card – although they have a MasterCard option (more on that later). And, it's not an e-wallet either such as PayPal, Skrill or Neteller.
What it is, however, is a prepaid card or prepaid voucher with a 16 digit pin-code on it. You then use this to purchase goods at online stores and services across the globe. All pretty easy then.
You purchase the prepaid Paysafecard voucher in retail stores in your local town. So you don't have to go too far out of your way to get started with this.
Does Paysafecard Offer other Options?
Outside of the standard prepaid card, they have a few other options available to you. They have a 'My Paysafecard' option which allows you to store all of the 16 digit pins you purchase in one simple place. You can then use them one-by-one starting with the oldest first.
This option, when applied to the Paysafecard mobile app, allows you to keep really good control of what you're purchasing and lets you keep tabs easily on your account.
They also have a Paysafecard MasterCard available for users who'd like the option to pay for items as you would with any other MasterCard, but in a pre-paid format. This can still be used online at the best Paysafecard betting sites. However, it helps customers use Paysafecard in the offline world in particular.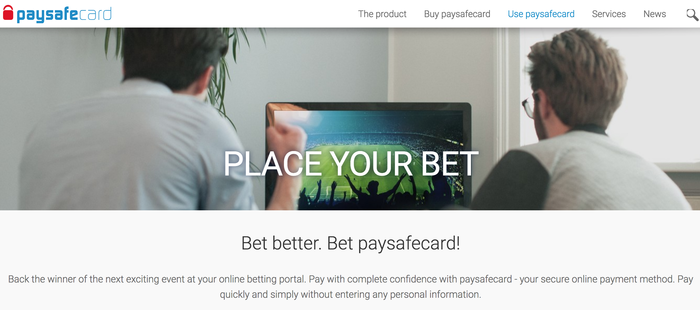 How to Deposit at Paysafecard Betting Sites
It's really a very simple process to deposit at Paysafecard betting sites. However, it's just a slightly different process than some of the other formats. We make it easy for you – follow the simple guide below and you won't go wrong.
Find your local retailer that sells Paysafecard vouchers
Choose a voucher value that meets your needs – £10, £25, £50, £75, £100, £125, £150, £175
Once you buy your voucher, head online to one of the best online betting sites or casinos that accept Paysafecard
Register and head to the deposit page
Choose Paysafecard as your payment method
Enter the 16 digit pin on your voucher in order to fund your account
You don't need to deposit the full voucher amount – your deposit amount will just be deducted from the value of the Paysafecard voucher.
Now you know how to use them, we're sure you're asking…
Who Sells Paysafecard vouchers?
Whilst the process may sound a little more stretched than other betting payment solutions, there are actually loads of retailers that allow you to purchase the vouchers for Paysafecard betting sites.
One of the key things to look for are retailers that offer the PayPoint service – you can buy your Paysafe card vouchers at any store with this service. Stores such as Co-op offer this as well as smaller independent retailers, so the range is huge.
Here's a full list of stores in the UK with availability:
PayPoint
Asda
McColls
OneStop
epay
WH Smiths
Pros of using Paysafecard for Betting Sites and Casinos
There are plenty of benefits to using Paysafecard betting sites and Paysafecard Casinos over other betting payment methods. Here are our favourites:
Extremely secure and trusted
It acts as cash in an online environment
A great range of Paysafecard voucher amounts
Thousands of online retailers accept Paysafecard – not just betting and casino sites
The My Paysafecard and Mobile App allows you to take your pins with you easily for purchases or deposits on the go
Internal promotions with chances to win Paysafecard pins and vouchers
Why is having no bank account or card details linked to your betting account a good thing? Well, really it leads into the security discussion. It's very hard to hack your account or commit cyber-crime when there are no bank details there to steal.
Cons of using Paysafecard for Betting Sites and Casinos
Naturally, no one payment method is perfect and each has their negatives to talk about. Paysafecard is no different and we want you to be aware of the following before you choose your favourite Paysafecard betting site or casino.
Having to buy a physical Paysafecard voucher or card adds in an extra step to the process
The maximum single deposit at Paysafecard betting sites is £200 – a much lower limit than many payment methods
Paysafecard won't be treated as a withdrawal method – only for depositing
Tiny fees apply based on the duration of pins – they start after 12 months of voucher ownership
Why can't I Withdraw with Paysafecard?
Quite simply, because it's a prepaid payment method – with Paysafecard offering a physical voucher and pin number, there is no wallet or bank function in which to hold withdrawn funds. Therefore you would need to check out some of the other best payment methods as to which is best to withdraw to.
Our Top 3 Paysafecard Betting Site Bonus Codes
In the UK, there's so much choice when it comes to betting sites. Cutting through the noise and finding one that suits you is our job and here we break down the best three online bookies that accept Paysafecard.
If you want to bet at an online bookie, without having to attach your bank details to your deposits, then the Paysafecard payment method could be a great option. Whilst it may take a bit of effort to purchase the original voucher, we think it can be worth it. Why? Once you have the voucher you can deposit instantly to any bookie that accepts them as a payment solution.
These Paysafecard betting sites are, in our opinion, the best ones out there. Places that offer trust and security, accept Paysafecard but more importantly offer great sports betting opportunities.
Here's our best 3:
Ladbrokes
Unibet
BetVictor