Trustly Betting Sites – Fast, Free and Secure
Trustly is a money transfer service that links directly to your online bank account. It can be used on betting sites for transferring and withdrawing funds directly to and from your bank accounts.
Many industries in multiple countries utilise Trustly as a method for transferring funds, so you can rest assured that it is a safe and reliable payment method. Trustly uses the highest encryption level to protect your data so you don't have to worry about your details being hacked.
Trustly does not require your bank account details. All you need to do is sign in to your online bank account through Trustly when you want to deposit or withdraw funds to/from your betting account. This eliminates the necessity of disclosing your bank account number and sort code to anybody online.
Deposits and withdrawals are free from Trustly's end of the transaction. You may want to scan the terms and conditions of your bank, bookie or online casino to find out if they charge any fees. Deposits are instantaneous with Trustly, but withdrawals can vary. Some Trustly betting sites will have your funds within 24 hours, some within 48, but a couple of online betting sites may take between 3 – 5 days.
Does Trustly Offer other Options?
Yes, Trustly are always trying to innovate and their latest In Banner Pay N Play product is a fine example. This brand new service makes it very easy to fund your chosen casino account and already many operators are facilitating deposits made via Trustly In Banner Pay N Play.
Trustly launched their original Pay N Play service a couple of years ago and it was, and still is, a big success. It enabled players to register and deposit straight from their bank using Trustly without having to jump through hoops to verify identity or even having to leave the operator's site.
You can find out exactly how the new In Banner Pay N Play service works below…
In Banner Pay N Play By Trustly – Play Without Delay!
The new Trustly Pay N Play combines registration and payments with gaming sites, streamlining the process. Pay N Play was originally launched by Trustly in 2015. The latest In Banner Pay N Play technology could revolutionise how funds are deposited and also how you register with a gaming or Trustly betting site. Instant withdrawals are also possible if you use Trustly In Banner Pay N Play.
With In Banner Pay N Play by Trustly, players will be able to register and deposit seamlessly by inputting info into the banner displayed on the host site. Leading affiliate service Raketech has already signed up with In Banner Pay N Play by Trustly, so it is likely that plenty of casinos and games sites will follow suit.
If you are looking to make secure and quick payments straight from your bank account to your gaming account, Trustly In Banner Pay N Play is well worth checking out.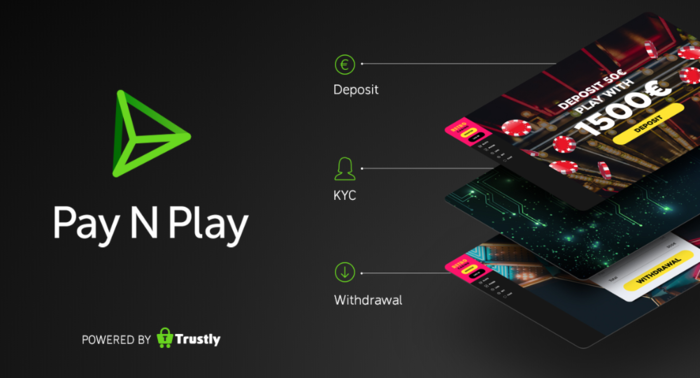 How to Deposit at Trustly Betting Sites
Making a deposit on Trustly betting sites is quick, easy and more secure than most other online payment methods. You don't even have to leave the betting site once you're logged in. All you need is the information you use to access your online banking account.
Deposits are instant and if you follow the steps below, you'll be taking aim at the bookie with your bonus in no time:
Sign-up or log in to your selected betting site by clicking on the 'Use Bonus Code' link above.
Click on Deposit and select Trustly as a form of payment.
Select your bank from the drop-down.
Log into your internet banking using your regular access codes.
Choose your desired account to be debited i.e. current/savings.
Verify and you're done.
Pros of using Trustly for Betting Sites and Casinos
The advantages that come with using Trustly to top-up your betting site or casino site account are listed below:
Provides you with a quick and easy method for topping up your online betting account.
No registration is required and Trustly does not store any data that can be used to access your bank account.
Removes the hassle and risk of entering your debit card or bank account details on multiple betting sites.
It's free with the vast majority of online betting sites.
Highest level of data encryption which makes it one of the safest and most secure forms of payment.
Available with all major banks in the UK.
Available for online banking accounts in 29 EU countries.
Several of the bookies listed above, such as Casilando, have short withdrawal times and will transfer your winnings to your account within 24 hours.
Cons of using Trustly for Betting Sites and Casinos
Here at Bonus-Codes.com we always look at both sides of the coin in our reviews and as with most things in life, Trustly has a couple of disadvantages:
Trustly is linked straight to your bank account, which means you have unlimited access to funds your current or savings accounts.
You can overcome this on most betting sites by setting a daily/weekly/monthly limit.
A couple of Trustly betting sites listed above in the bonus codes have longer withdrawal times. UniBet for example, can take between 3-7 days.
Can I Withdraw with Trustly?
Trustly betting sites allow you to withdraw funds directly to your chosen account in just a few clicks. All you need are your online-banking access codes and you're ready to go.
Our Top 3 Trustly Betting Site Bonus Codes
There are plenty of Trustly betting sites listed in 'The Best Bonus Codes for Trustly Betting Sites' section above and every one of them accepts Trustly as a payment method for bonus activation. This is opposed to methods such as Neteller and Skrill, which are often exempt.
Using Trustly as a deposit or withdrawal method on betting sites guarantees the safety and security of your bank account details. Trustly betting sites also offer instant deposits, and withdrawals are relatively quick too.
Our Bonus-Code.com review experts have put their heads together and hand-picked their top three Trustly betting sites in relation to the value offered to customers. These can be found in the next section.
Top 3 Trustly Betting Sites
UniBet
Casilando