Apple Pay Betting Sites – A Secure and Convenient Way to Pay
Apple Pay is a relatively new payment method for online sports and casino betting customers in the United Kingdom. An increasing number of online bookies are embracing Apple Pay as a payment method, and most major U.K. banks are now supporting the use of Apple Pay.
Apple Pay is an electronic wallet that allows you to store the information of up to 12 debit cards on your Apple device. Compared to a debit card, Apple Pay provides users with two extra layers of security.
Firstly, the process of disclosing your debit card details to multiple online betting sites is eliminated. Secondly, each Apple Pay online transaction requires verification via a fingerprint or photo recognition process.
The Apple organisation is a world-leading innovator when it comes to technological product development, which has led to the omnipresence of the Apple logo in social and technological environments around the globe.
People from all walks of life seem to have an iPhone, iPad or MacBook and if you own one, you can use it to top-up your online betting account. If you want to find out which models are compatible, read the next couple of sections.
Does Apple Pay Offer Other Options?
As mentioned previously, Apple is committed to product development and their Apple Pay product is no exception. Customers can use Apple Pay in a variety of payment environments.
Apple Pay can be used as a contactless payment method for person-to-person transactions in stores and restaurants. Providing the merchant has a contactless point-of-sale terminal, you can use your Apple device to pay for goods and services in a 'tap-and-go' fashion.
If you want to shop online, a vast selection of the worlds biggest online sites accepts Apple Pay as a payment method, including eBay and Ticketmaster. Apple Pay also allows customers to make in-app purchases for iOS applications.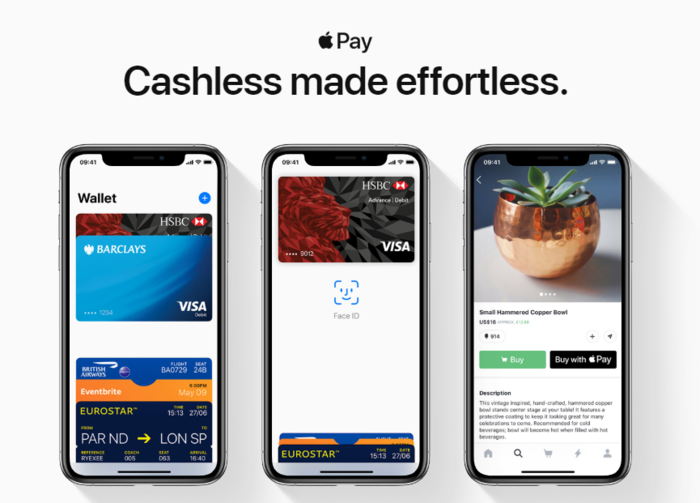 How Do I Add a Debit Card to Apple Pay?
If you want to take advantage of the convenience and security offered by Apple Pay betting sites, you must own, or have access to; an iPhone 6 or newer version; an iPad Air 2 or newer version; or a MacBook with the 'Touch ID' feature available.
Once you get your hands on a compatible device, check that your bank supports Apple Pay, then follow the steps below to add a debit card.
iPhone 6 or Later / iPad Air 2 or Later
Open the 'Wallet App' on your iPhone or iPad and select the '+' icon in the top right corner of your screen.
Hit the 'Next' button on the Apple Pay screen.
Use your camera to scan your debit card, or enter the details manually, then hit 'Next'.
Enter your cards' expiration date and security code, then hit 'Next'.
Agree to the terms and conditions.
Select your preferred verification method.
Enter your verification code and you're ready to use Apple Pay to top up your online betting account.
MacBook
Open System Preferences and select the 'Wallet & Apple Pay' icon.
Click on the '+' button to add a new debit card.
Position your card in view of the webcam on your MacBook, or you can enter the details manually.
Accept the terms and conditions.
Your bank will contact you to verify.
You're ready to deposit using Apple Pay on your MacBook.
Now that your device is set up, you're ready to deposit with Apple Pay and claim your bonus. Read the next section to find out how to deposit funds to your online betting account.
How Do I Deposit at Apple Pay Betting Sites?
Once you have added a debit card to your Apple device, the process of topping up your betting balance to claim your bonus is easy. Just follow these five simple steps:
Click on the 'Use Bonus Code' link provided in the list of online bookies above. You will be redirected to the site of your chosen betting site.
Create an account by registering your details and choose Apple Pay as your preferred payment method.
Enter your deposit amount and authorise the payment using Touch I.D. or facial recognition.
You will receive a notification confirming the deposit amount and transaction I.D.
You're ready to bet.
Pros of using Apple Pay for Betting Sites and Casinos
The Apple Pay payment method for online betting sites provides users with numerous advantages, some of which we have listed below:
New and existing customers can claim online sports and casino betting bonuses using their Apple device.
Offers customers an extremely safe method for topping up their betting balance.
Speeds up the process of registering by removing the necessity of entering card details on multiple betting sites.
Deposits arrive in your betting account instantly.
There are no transaction fees charged by Apple.
Cons of using Apple Pay for Betting Sites and Casinos
As with all payment methods, there are a couple of disadvantages associated with Apple Pay if you want to use it to top up your online betting balance:
You must own a compatible Apple device, which is quite expensive.
The number of online bookies that accept Apple Pay isn't huge, although it is growing.
Funds cannot be withdrawn using Apple Pay. More on this in the next section.
Can I Withdraw with Apple Pay?
It is not possible to make withdrawals on Apple Pay betting sites. Customers should contact the customer service department of their online bookie to arrange an alternative withdrawal payment method.
Although customers cannot currently withdraw funds to their Apple device, this is likely to change if Apples' track record is anything to go by. They strive to develop products that meet the needs of all their customers, so watch this space. If there are any further developments, we will let you know.
Our Top 3 Apple Pay Betting Site Bonus Codes
Due to the fact that Apple Pay is a relative newcomer on the U.K. financial services scene, the number of Apple Pay betting site bonus codes isn't huge, but we assure you it certainly is growing.
We did manage to find a few, and we have listed them above in the 'Best Bonus Codes for Apple Pay Betting Sites' section. Just click on the 'Use Bonus Code' link and you can claim your bonus.
The Bonus-Codes.com experts have picked out their top three Apple Pay betting sites. They offer the best value promotions for new and existing customers. The next section provides a list of our experts' top-three picks.
Top 3 Apple Pay Betting Sites
Sportingbet