Top 7 European Championship Betting Sites
Unibet
NetBet
bet365
William Hill
LeoVegas
Betfair
Euro 2020 Promotions: What Can You Claim?
Whenever a big tournament comes around, whether it's in football, tennis, golf or another major sport, the bookies are offering new and existing customers betting bonuses. In this case, it's Euros betting offers. Euro 2020 bonuses to be exact.
If we cast our minds back to Euro 2016, there were plenty of Euro 2016 bets being placed, but Euro 2020 will be even bigger in that sense. And a lot of bets will be placed on enhanced odds offers. Bookies will offer these closer to the start of the event, but using Euro 2016 as an example, the likes of 888Sport and Betfair offered some appealing prices.
888Sport Enhanced Odds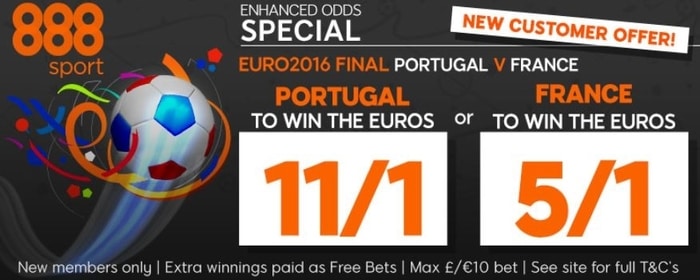 As you can see from the image above, 888Sport had a very tempting new customer offer for the Euro 2016 final. Of course, Portugal won in the end, so a £10 bet on them with this offer would have seen a return of over £100!
We expect 888Sport to offer some good European Championship betting odds for Euro 2020, so keep an eye on their enhanced offers. Especially if you've not yet got an account with them. Or maybe you have one already? No doubt they'll have some great existing customer bonuses as the tournament begins.
Betfair Enhanced Odds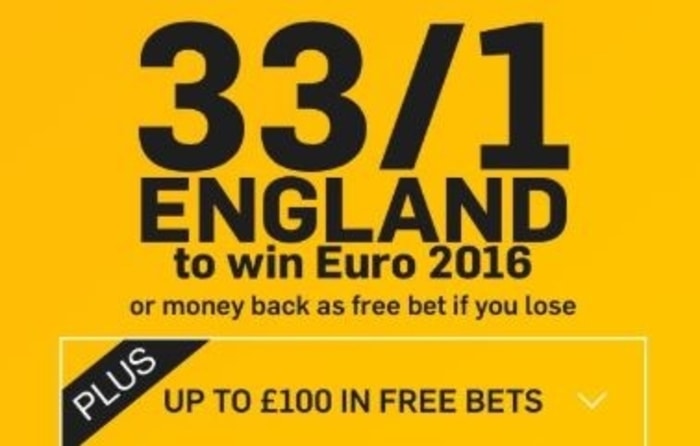 Betfair is another top online bookie in the UK who loves to offer big odds for big events. Ok, so 33/1 on England to win the Euros as the image states above looks great, but it's sometimes not worth following your heart and using your head for these types of offers instead. It might be a while before England win the Euros or the World Cup, but England are one of the favourites for Euro 2020, and most UK bookmakers will offer Euro 2020 promotions such as 33/1 for England to win the tournament just like Betfair did for Euro 2016.
What's great about the Betfair enhanced odds offer in this example is that you get your stake back as a free bet if it fails to win. They may well do the same for Euro 2020. You could also claim the £100 in free bets just as they offered for Euro 2016 as a new customer bonus, so keep an eye out on Betfair promos just before the tournament starts.
Other Euro 2020 Welcome Bonuses for New Customers
Bookies will offer a wide range of Euro 2020 Promotions for new customers. As well as enhanced odds, you can expect to see the following Euro 2020 betting offers from many online sportsbooks:
Bet & Get betting offers
Free Bets
Matched Deposit Bonuses
Money-Back Specials
Euro 2020 Sign Up Offers – How Do I Use Them?
If you've got one or two accounts with online sports betting sites already, you probably know the process of it all. If you've arrived here and are looking to sign up to your very first bookmaker to grab European Championship betting bonuses, here's what you'll need to do:
Click through to your preferred bookmaker using one of the links on our site.
Register for a new account.
Upload any ID documents if you're asked to confirm your identity
Add your preferred payment method.
Deposit the minimum amount specified in the European Championship sign up offer.
Enter a Euro 2020 bonus code if there is one attached to the bonus.
Follow the instructions on the welcome bonus.
If you get to the final stage and something's still not right, please do read the T&Cs of the welcome offer. Bookies will almost spell it out for you in terms of what you need to do to get the welcome promo.
What if I forget to enter the Euro 2020 bonus code?
One thing we've learned from doing all of our bookmaker reviews is that it's not all lost if you have a bonus code to enter but forget to enter it when you're meant to. Initially, that means you can't get the European Championship bonus offer. But if you get in touch with customer support via live chat, email or by whatever means you have available to you, and explain the situation, they can sometimes add the welcome bonus code in the back end.
So, for example, you've gone to, say, 888Sport to get their bet 10 get 30 offer reading for some Euro 2020 betting, but you've not entered the promo code. Get in touch with their live chat team (this is always the quickest way to resolve issues), explain what's happened and they may sort it out for you. That Euro 2020 bonus code will be added for you and you'll get your welcome bonus.
European Championship Promotions for Existing Customers
The types of betting offers you'll come across for the European Championship as an existing customer include:
Free Bets
Price Boosts
Acca Insurance
Extra Places
Goalscorer Specials
Let's expand on these and give some European Championship betting examples.
European Championship Free Bets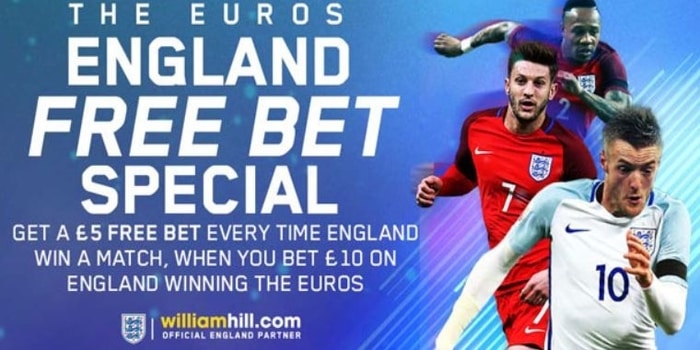 This is exactly what you think it is – free bets. There's nothing fancy about it. You'll get free bets in a number of different ways during the European Championship.
The bookie could have a free bet club where you get a £5 or £10 free bet every week if you bet a certain amount. A bookie could also offer free bets to you if the team you've bet on in the European Championship outright wins a game. That's a popular European Championship promotion, to be honest. For example, looking at the William Hill Euro 2016 promo image above, you've backed England to win Euro 2020. The bookie may run an offer for those who have bet on England to win Euro 2020 in the outright market. Every time they win a match, they'll give you a free bet. Expect to see many bookmakers off this sort of Euro 2020 free bet promotion.
European Championship Price Boosts
If you're thinking that this sounds like an enhanced odds promo, you'd be right. It's the same thing really. However, enhanced odds tend to be reserved as a term for new customers. Price boosts work in exactly the same way in that they're essentially better odds than usual. An example here would some Euro 2020 betting odds on England to win their opening fixture. They might be 4/5 with a lot of bookies as the norm, but one bookie might have offered a price boost for its existing customers and priced them at 11/8 or something like that.
European Championship Acca Insurance
You don't see acca insurance around as much as you did at Euro 2016, but it's still available with a fair few online sports betting sites.
If you're not familiar with these, it's essentially a promo where the bookie will give you your stake back if one leg in your accumulator lets you down. An example here would be placing a 6-fold accumulator on Euro 2020 matches. One leg loses but the other five win. Normally you'd just lose your bet, but with acca insurance in place you'll either get your stake back in cash or as a free bet.
If you're on the lookout for Euro 2020 acca insurance, make sure you check the terms of the promo with your preferred bookie. Some bookmakers offer it on five or more selections, some on six and some on seven plus. In terms of betting odds, it may be wiser to go for the bookie who offers acca insurance on less selections as the total odds will be less.
European Championship Extra Places
You hear the term 'extra places' mainly in horse racing and when bookies offer promos on specific races. But it's also a promo used by bookies on outrights in big tournaments. The European Championship is obviously a big tournament, so bookies will almost certainly offer extra places in the winner outright at least. Probably the Euro 2020 top scorer outright too.
So, for example, you've backed France to win Euro 2020. The normal each-way terms are probably two places at 1/2 the odds. You must back France each-way by the way here. If you back them just to win it and they lose in the final, you're bet is a loser. Check the place terms if you want to place a Euro 2020 outright bet. Some bookies may offer, say, 3 places at 1/2 the odds instead of two places. It might be worth betting on your Euro 2020 winner using the bookie with the better place terms if you want to bet each-way.
European Championship Goalscorer Specials
You'll see plenty of European Championship goalscorer promotions around, there's no doubt about that. One of the promos related to the Euro 2020 top scorer will be like the one mentioned in the free bets section. For example, if you've backed Raheem Sterling as the top scorer in the outright, you'll get a free bet every time he manages to score.
Another goalscorer promo is the double odds promo. Using a Euro 2020 double odds example, say you've backed a player to score first in a Euro 2020 match and he does indeed score first. A bookie might have a goalscorer offer on where they'll double the odds if he scores in the first 25 minutes of the game. So Kane scores first for England at 3/1 in the first 15 minutes of the game. Your odds double to 6/1, so you'll be paid out double winnings. Max stakes may be in the T&Cs, though, so make a note of that.
Euro 2020 Predictions – Who Will Win?
If you're looking for free betting tips for Euro 2020, we have one for you. We concentrate on impartial sports betting reviews and betting bonuses, but we've got one Euro 2020 tip for you. Do with it as you wish.
There will be many sites out there giving you their take on who will win Euro 2020. England are too short. We like the look of Belgium to win Euro 2020. Individually, they have what it takes to win it, that's for sure. As a team, they have what it takes. They're in a group with Denmark, Finland, and Russia, which they should really top with relative ease.
Belgium made the quarter-finals four years ago, but their squad has matured a lot since then. That was evident when they finished third at the 2018 World Cup in Russia. They could have beaten France in the semis on another day. It was close.
Their qualifying campaign was solid, and they simply have world-class players throughout the squad. Everyone needs a bit of luck along the way, but we feel it could be Belgium's year. And at 7/1, we can't turn that down when you look at the odds of others.
Euro 2020 Betting Tips – Belgium to win Euro 2020 @ 7/1 888Sport
Euro 2020 Winner Betting Odds
| Winner | Bet Here | Bet Here | Bet Here |
| --- | --- | --- | --- |
| England | 11/2 | 39/11 | 9/2 |
| France | 7/2 | 6/1 | 5/1 |
| Belgium | 7/1 | 9/2 | 5/1 |
| Holland | 7/1 | 27/5 | 6/1 |
| Germany | 7/1 | 17/2 | 8/1 |
| Spain | 7/1 | 8/1 | 15/2 |
| Italy | 14/1 | 10/1 | 10/1 |
| Portugal | 16/1 | 16/1 | 14/1 |
| Croatia | 25/1 | 25/1 | 22/1 |
| Denmark | 80/1 | 66/1 | 80/1 |
European Championship Betting – Always Check T&Cs before Sign Up
One thing you should always do before registering with a bookmaker is read the T&Cs of any bonus offer. There are certain key terms to ensure you understand before diving in, such as:
Wagering requirements
Minimum deposit
Minimum odds
Excluded payment methods
Bonus expiry date
Let's expand on these…
Euro 2020 Bonuses – Wagering Requirements
Wagering requirements are important as you don't want to sign up with a bookie whose terms are unachievable.
Euro 2020 Bonuses – Minimum Deposit
This is something worth keeping an eye on. Especially if you're not really a big bettor and just want to make use of one or two Euro 2020 bonuses. Some bookies have a minimum deposit of £5 or £10. That is the norm really. But you do see some bookies who have a minimum deposit of £20, which can be seen as a bit steep for some. Feel free to avoid those if you wish as there are plenty of Euro 2020 promotions out there where you can avoid depositing this much.
Euro 2020 Bonuses – Minimum Odds
Another key term that you need to keep an eye out for is the minimum odds. So, for example, you might have a welcome bonus where you need to place a bet first at minimum odds of evens. That's not too bad, but the same offer elsewhere with minimum odds of 1/2 is better as it's got more chance of landing due to the shorter odds.
Euro 2020 Bonuses – Excluded Payment Methods
If you're a fan of using ewallets such as PayPal, Skrill or Neteller to place bets, be wary of some bookies excluding some payment methods from bonus offers. PayPal is normally OK with most bookmakers, but a lot do tend to exclude Neteller deposits and Skrill.
Euro 2020 Bonuses – Bonus Expiry Date
The expiry date of a bonus is also something to note. Especially if it's a free bet. Say you only really bet once a week and login into your account every four or five days. If you've won a free bet without realising and it has an expiry date of 48 or 72 hours, that's not going to work for you. A lot of free bets have an expiry date of seven days, which is fine, but make sure you check.
How to get the most out of Euro 2020 sign up offers and bonus bets
There's some guidance we can give you here that will help. To get the most out of Euro 2020 sign up offers and bonuses, always consider the following:
Research each wager. Use stats and other information to find out everything you can about the bets you are going to make.
Don't go chasing your losses. Never bet out of anger or frustration, that's rule number one really. Betting should always be a fun activity. Please bet responsibly.
European Championship Live Betting – Bet In-Play on Every Game
When you're scrolling through a Euro 2020 betting guide, you want to see a live betting section as that's a huge part of any sort of football betting these days.
At the time of writing, there were no Euro 2020 live betting offers, but there will be closer to the event. Keep an eye out for them if you enjoy betting in-play as sometimes the rewards are better than pre-play betting bonuses. Not always, but sometimes. The max winnings limit might be higher as one example.
European Championship Mobile Betting – Enjoy the Action on the Go
The majority of punters will be betting on the European Championship from their mobile device. That's a fact. As we move toward a mobile-first way of thinking, being able to do things seamlessly on your mobile is a must. And betting on mobile is no different. This is why bookies spend on their mobile products, whether it be investing time and money into a native mobile betting app or making sure their mobile site is better than or as good as the competition.
LeoVegas Sport has a great mobile-only welcome offer at the moment, so consider that if you don't already have an account. There will be plenty more Euro 2020 mobile betting offers appearing in the near future but, remember, you can avail of all of the usual European Championship bonuses and promos on your mobile as well as your desktop or laptop.
European Championship Betting FAQs
Where is Euro 2020 being held?
Euro 2020 is being held in 12 cities in 12 different countries across Europe. Those 12 cities are:
London, England
Munich, Germany
Rome, Italy
Baku, Azerbaijan
Saint Petersburg, Russia
Budapest, Hungary
Bucharest, Romania
Amsterdam, Netherlands
Bilbao, Spain
Glasgow, Scotland
Dublin, Ireland
Copenhagen, Denmark
What date is Euro 2020?
Euro 2020 will run for a month. The first match will be played on 11 June 2020, with the final at Wembley on 11 July 2020.
Which bookmaker has the best European Championship betting odds?
It depends on what you're looking to bet on. One bookmaker might have the best odds in the Euro 2020 outright market, but then they won't have the best odds on the Euro 2020 top scorer market. If you're betting on the outright, use our odds comparison table on this page to see who has the best odds. Otherwise, shop around to ensure you get the best odds for what you want to bet on.
Are England favourites for Euro 2020?
At the time of writing they are. England haven't won a major tournament since 1966. But yes, England are currently favourites to win Euro 2020.