Entropay Betting Sites – A Pre-Paid Card That Helps Control Spending!
Entropay is an online service that allows you to top up a pre-paid virtual Visa Card online. You can use Entropay for depositing funds to your account and for withdrawals too. Entropay is also accepted as a payment method by lots of online retailers.
However, new regulations recently introduced by Visa mean that Entropay is not accepting new customers. If you have an existing Entropay account you can still use the facility for playing on Entropay betting sites.
Once you top up your account you will be given a card number that can be used with any Entropay friendly betting sites.
The best thing about Entropay is that you can only spend what you have put on the card, so it is an excellent way to control spending. A 1% fee applies to Entropay wallet top-ups, while withdrawals incur a fee of between £1.49-£7.99.
Deposits are instant and withdrawals are relatively quick so if you have an Entropay account, we recommend using it!
Does Entropay Offer other Options?
If you have an existing Entropay account you can apply for an Entropay MasterCard plastic card that works in exactly the same way as the pre-paid Visa card. However, you can also use the Entropay MasterCard to make cash withdrawals from ATMs.
This means you can access your Entropay funds instantly, wherever and whenever you need to! You can also use the Entropay plastic card in retail outlets if you wish, and it is just as easy to top up via your Entropay wallet.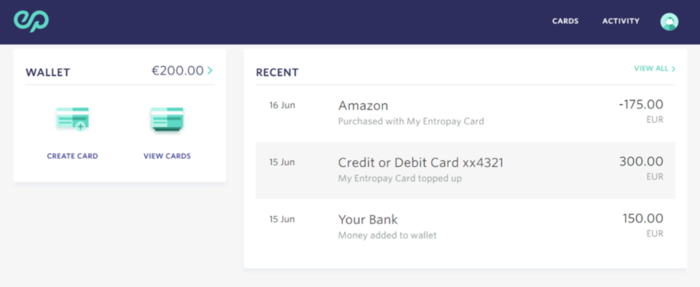 How to Deposit at Entropay Betting Sites
If your betting site accepts Entropay as a payment method then depositing funds is as simple as can be. It is exactly the same as using a Visa or MasterCard debit or credit card, as you can see from our step by step guide on how to deposit at Entropay betting sites below.
Log into your Entropay account.
Transfer the funds you want to spend into your Entropay wallet.
Log in to your chosen Entropay betting site.
Click on 'Deposit funds' via Visa/MasterCard credit card.
Enter the details of your Entropay card.
Choose your deposit amount.
Make your deposit and get your funds instantly.
You can find out lots more useful info about Entropay betting sites if you keep on reading…
How Do I Top Up Entropay?
There are a few options available for topping up your Entropay account and again, it is a simple process. You can top up via credit or debit card, while you can also use bank transfers.
Bank transfers take 2-7 days to appear in your wallet, while all other top-up methods are instant. Another cool feature is that Entropay users can transfer funds between their existing cards/wallets if they wish.
You should read our guide on how to top up your Entropay wallet below.
How To Top Up Your Entropay Wallet
Log in to your Entropay account.
On the dashboard choose 'View Cards' or alternatively 'Cards' from the top menu bar.
Select the card you wish to top up and click 'Top Up Card'.
Choose the method you want to use (credit/debit card, bank transfer or other Entropay Card.
Follow the instructions shown on screen to top up your account.
Pros of using Entropay for Betting Sites and Casinos
There are lots of advantages to using Entropay for betting sites and casinos, as you can see from the list below.
Very safe and secure way to spend money online.
The very latest Secure Socket Layer (SSL) encryption technology is used.
Access cash instantly via ATMs with Entropay MasterCard plastic card.
Good way to control online spending.
Widely accepted by online betting and casino sites.
Easy to top up.
Relatively fast withdrawal time.
Cons of using Entropay for Betting Sites and Casinos
We always look at the good and the bad when it comes to reviewing payment methods and bookies. Although Entropay has plenty going for it as a payment method, there are a couple of negatives too…
No new customers are being accepted.
Fees are applied to deposits (1%) and withdrawals (£1.49-£7.99).
Can I Withdraw with Entropay?
Yes, you can withdraw using Entropay with the majority of betting sites. It is just the same as withdrawing using a debit card. However, if you are withdrawing funds from your Entropay wallet to your bank or debit card a fee of between £1.49-£7.99 will apply.
Our Top 3 Entropay Betting Site Bonus Codes
UK punters have a massive amount of betting sites to choose from. Finding Entropay betting sites isn't difficult as it is a widely accepted payment method in the industry. Most bookies will allow Entropay deposits to be used for welcome bonus offers, whereas Paysafecard, Neteller, and Skrill are usually excluded.
If you are looking for a betting site that accepts Entropay you should check out the top three Entropay betting sites as selected by our experts…
Top 3 Entropay Betting Sites
Ladbrokes
William Hill
Paddy Power